Dosage control equipment
Our dosage control equipment is based on a Siemens S7 PLC processors with text and graphic panels to control the dosage, moving and mixing of gravel, sand and cement for a concrete stone or tile plant, amongst others.
We also control liquid dosages of color, chemistry as well as oils and pastes. With our many years of experience we offer proven, time optimized and cost effective systems and controls in accordance with your needs for new machines or to update existing ones specializing in dosage controls and mixing.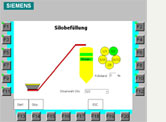 Modernization of Dosage Controls
Changing from volume dosage to weighing technology
Optimization and expansion of existing machines

download PDF
Send your request by
eMail
or contact us by phone:
+494185-792 90 80.
We will gladly submit a free quote.