Concrete plants
The modification, extension and modernization of existing concrete factories as well as the planing and implementing of new plants is one of our specialties. We are well familiar with all machines and processes utilized in the concrete industry such as block forming and transporting, lorrie track control palletizing, tile pressing, grinding, milling and calibration machines etc.

We have been specializing in the modernisation and extension of concrete factories since 1992 and as a former shift supervisor of a major facitility of this kind, I have a lot of personal experience in all manufacturing processes and its associated environmental conditions. Our solutions reflect the rough and tough every day working conditions; a typical example is our silo monitoring system witch reflects a simple and reliable way to control the level of raw material in the silo.
emerged from this e.g. our bunkers guard for easy liquid level control of concrete bunkers.
Bunkers guard for level control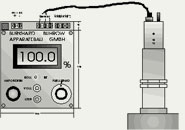 for silos, color, core and auxiliary bunker. The level monitor based on a sonar-distance control-unit with an adjustable range and adjustable-environment adjustments.
The easy handling, good Repeatability and ease of maintenance in favor of this non-contact measuring system.

Technical data:
Operating voltage: 24V/DC +/- 10%
Range : 60 - 600cm
Histerese : 10-30cm
Output : 1xUM potenzialfrei + 1x 24V/DC
Send your request by
eMail
or contact us by phone:
+494185-792 90 80.
We will gladly submit a free quote.